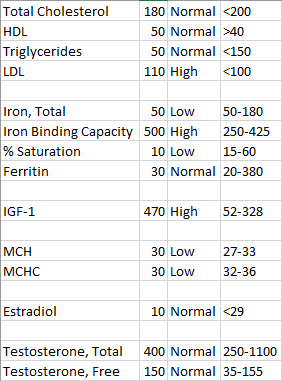 Latest labs aren't so great... at least as far as Test. Not sure what's up. I should have gotten SHBG, as I'm perplexed. 15mg of Prop daily netted me 888 of Total Test early January. Now it's 400. I don't think it's an anomaly, either, because I have felt horrible the past few months and never stopped to think my test might be lowish. I'm going to go with the theory that my body is just needing more Testosterone, because honestly, my doses really have been low. I do like my Free Test being up that high, but I've still been feeling awful. I've doubled my Prop dose for now to make for an approximate 200mg weekly dose. This is on the top end of what's considered TRT, so we'll see what happens. I always laughed when I read people injecting 200mg weekly for TRT, because up until now, I always considered that just a never-ending light cycle. Instead of 30mg daily at once, I added a 15mg injection with dinner in case my SHBG is just total shit.
I disagree that Estradiol is "normal." E2 of 10 sucks, though the ratio of TT/E2 is around 40, which is actually perfect. Going to keep my low-dose AI going and see if I can get a linear response along with the doubling of Prop to get up in the 20's next time.
Glad I got Iron because I'm just beginning a deficiency... and I just drained a pint of blood thinking my hematocrit was high. It wasn't, so I ended up making that even worse. Oh well, at least I won't need to drain a pint for quite some time now. It will take months to fix iron levels. Blood chemistry is mostly fine and just shows the beginning stages of problems, so I caught it in time.
Cholesterol continues to improve. LDL always an issue with TRT users, but it keeps going down. It's almost below 100.
I've never much tracked my IGF levels, but this result puzzles me (470). I did not have my morning injections the day of labs. When blood was drawn, it had been over 24 hours since my last injection or 2iU GH. Or maybe I just have a concept error with IGF.
Note that I rounded the lab value results. It would be pretty easy to identify me if someone had access to lab results. Giving exact numbers would be like giving a fingerprint.
I only posted interesting results. Liver values are great (note that the new addition of NAC and TUDCA below are not due to any liver issues.. they are purely experimental).
Edit: Ended up pulling back Prop dose to 20mg daily and bumping Masteron up to 40mg daily. 30mg of Prop daily was just too much. Probably need to bump Primo soon... has likely been a waste at 20mg daily.
New regimen as follows:
Morning
----------
-20mg Test P
-40mg Mast E
-20mg Primo E
-0.25mg Aromasin suspension
-x1 Jarrow NAC Sustain 600mg (exp)
-x1 Nutricost TUDCA 250mg (exp)
-x1 Jarrow Methyl Folate 1mg
-x2 Life Extension TMG 500mg
-x1 ProFerrin ES
-x1 Ester-C 1000mg
-x1 Gaia Herbs Rhodiola Rosea 120mg
-x1 Carlson Elite Omega 3
-6.25mg Proviron
-2iU hGH (5/2)
Lunch
------
-x1 ProFerrin ES
Dinner
--------
-x2 Botanical Craft Palm Fruit
-x2 Now Foods Boron 3mg
-x1 rounded tablespoon Creatine
-x1 Mag-Tab SR
-x1 ProFerrin ES
-x1 Thorne Zinc Picolinate
-2mg Cardura
-6.25mg Proviron
-500mcg tanning days right before tanning
​